I have a confession to make.  I love to plan and think about making things.  I never end up with the time to actually follow through on my plans, but boy do I like to plan.  Typically I see something I want to make, purchase everything needed to make said craft, and then it sits in my craft room collecting dust.  I am going to start airing out my dirty laundry (or dusty crafts perhaps) in my new series…Confessions of a Craftaholic.  Maybe this will help me get my butt in gear and finish a project or two…or ten. 
My first confession has to do with this awesome table runner that I featured a few months ago (from Hating Martha):
When I saw that vintagey cuteness I knew I could make one just like it.  I was picturing various yellow print hankies to go with our dining room.  I was very excited and I headed over to etsy and searched out the perfect group of vintage yellow hankies: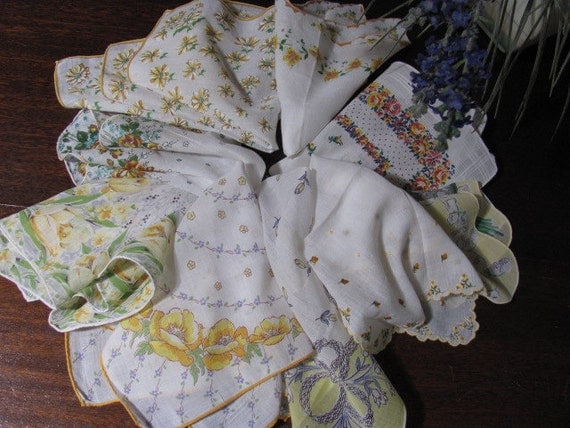 A few clicks later these babies were on there way to Main St (according to etsy I purchased them on Dec 12th…eek).  When they arrived in the mailbox I was excited, opened them up, set them down, and that's it.  I attempted to look for cute yellow lace once (similar to what Hating Martha used on the border of hers), but when I couldn't find anything I liked I guess I gave up. 
So this is just one of the many many things I started and have yet to complete.  I am making this confession in an effort to make it happen.   So hopefully next week I can show you how it turned out! 
Please tell me I am not the only one who does this?  Buys all the parts and never puts the pieces together? 
Are you actually working on any crafts now?  Or, better yet, have you finished any?