Yes, I actually have an update to share!  Do you remember wayyyyyy back when I posted my Confession?  I had tons of unfinished crafts piling up everywhere, and I thought that writing about it would get me to finish them.  Well, it kind of worked, but it did take a while. 
I was inspired by Hating Martha's vintage hankie runner:
So I bought a bunch of vintage hankies off etsy: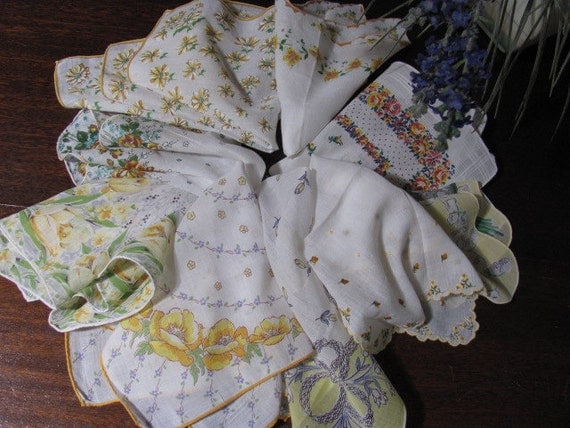 And they sat in a pile until last week!  Yahoo; it felt so good to actually finish something! 
Before I sewed them together I laid them out on the dining room table to figure out the best order.  I kinda liked the one with the circles in the center; I thought it looked cute with my bowl full-o fake lemons. 
I used a zigzag stitch and overlapped the hankies by about 1/4"-1/2" depending on what looked best.  I figured it didn't have to be exact.
I am happy with how it turned out, and it gave me an excuse to actually clean off the dining room table (usually it is piled with mail and various types of clutter).
Unfortunately the table is no longer clear (I think it lasted about 15 minutes)  Is your dining room table empty, or does it collect anything and everything like ours?  I keep telling myself if I can just get a buffet then I would neatly put things on it, but I am sure both the table and the buffet will be filled. I blame it on the massive amount of junk mail we get everyday…I'd be super neat if it weren't for junk mail! 
So, the dining room is almost done.  Read more about the chair makeover, slipcovers, painting, and the wainscoting here if you would like.  We still have to:
1.  paint the inside of the china cabinets (they are the original room color currently and it's actually not too bad).  I am thinking pale yellow, but nothing too crazy like the sunshine yellow I first selected for the entire room. Kevin said he is done painting the dining room, so I might be alone on this one! 
2.  Figure out the window treatments.  I would really like indoor shutters, but they are super expensive, so we'll see. 
3.  Hang the plate wall.  I have all the plates, but need to buy holders.
4.  Get a small buffet.  I keep stalking craigslist to find the perfect one.  I would love a sold wood one in a similar shade as the table, but that might be a challenge.  I could probably settle for one we could paint. 
Speaking of craigslist, I think I need to take a peak!  Have a great day =)