So I am having some window covering issues, particularly the windows in the nursery.  
I know the ladder is in the way, but you can see one of the windows and the radiator that is underneath.  There is an identical window with radiator on the left wall also.  Almost all the windows in our house have radiators directly underneath them. Can anyone see the problem here?  
How does one hang curtains or use a window treatment without covering the radiator?  
The room previously had wood blinds, which we took down (they didn't go with the navy blue and they did not provide enough darkening for the room).   I think I have decided to get simple white room darkening shades that pull down (no cords…we wouldn't want any kind of choking/strangulation hazard…we have enough of those with all the cords in our sunroom). Something like this from JC Penny would work well:
Over the white blinds I wanted to make curtains from this fabric, from fabric.com:
I found this picture of possible curtain lengths on dummies.com: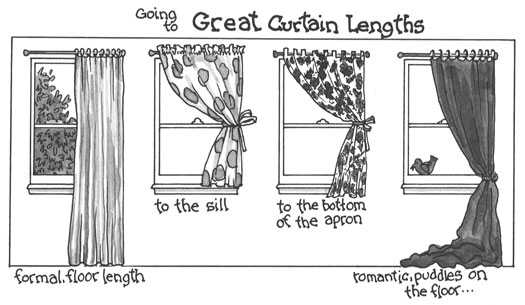 I don't know about you, but I love the first drawing of the "formal, floor length" curtains.  Check out these beautiful DIY curtains from Owen's Olivia via Apartment Therapy:
I love those curtains, and the length is just perfect.  Unfortunately, I don't like the idea of covering the radiators up with a curtain.  My first thought is "fire hazard," but Kevin (the fireman) tells me it is actually safe and does not pose a threat.  I don't know, I wouldn't want to risk it.  Also, I wouldn't want to cover up the only heat source in the baby's room.  
So that leaves me with making curtains that come just above the radiator/just below the window sill (click on photo to take you to source)…
or making a window cornice like this one from Domestic Adventure…
I was pretty much set on doing the window cornice, but I would really like the added light coverage of curtains.   What do you think?  Cornice or short curtains?  I keep going back and forth, today I am thinking short curtains. 
Does anyone else have radiators out there that cause issues with decorating?  Any other funny stuff get in the way?  
Speaking of funny stuff, Christmas is exactly 5 months away and Hallmark already has the Christmas ornaments out.  What?!