It's been a while since I've shown the nursery (you can read about the basics, the moodboards, the paint, the curtains, and the bedding if you so wish!).  
Today I wanted to show off my homemade crib mobile.  I really wanted a unique mobile for my one of a kind little guy.  If you are a new mom you probably already know there aren't too many options out there.  First I checked out sites like Amazon and stores like Buy Buy Baby, and I just wasn't finding anything I loved.  There were some cute ones on etsy, but if I was going to use a handmade one I figured I should be the one doing the making!  
The problem with making your own crib mobile is trying to figure out what to hang cute little things from.  Making the cute little things is easy, it's the actual mobile part that confused me.  Of course I found the answer on the blogosphere.  I remember seeing Kim's pinwheel mobile months before making my own, so I went to check out what she used.  At first I thought she spent hours bending wire into a perfect configuration (although I suppose that would be possible)….but then I realized she purchased this fabulous wire picture mobile from Amazon (so maybe they did have something I liked after all).  
I also ordered a robot cartridge for my Cricut.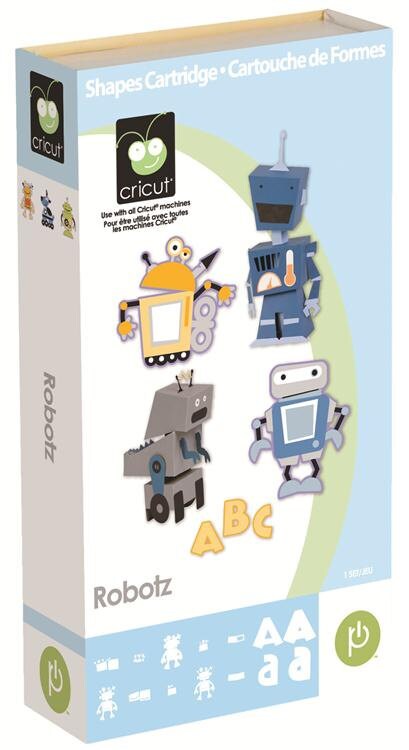 Hours and hours of cutting and gluing later, I had the cutest little robot crib mobile around!
I tried to use bright colors to match the nursery, and I threw in some metallic/glittery paper.  
I am really happy with how it turned out.
And it wouldn't be complete without a robot doggie (dogbot?  doggie robot?)!
So, let's just say you are chillin' in your crib refusing to go to sleep…
Now you have something pretty cool to look at!
Do you have a Cricut?  Have you made anything fancy on it lately?  I've heard the Silhouette is better; what do you think?   
Sugar Bee Crafts
Skip to My Lou