Can you believe it's December?!

No?
Me neither.  I don't know where the time goes.  
For the last…ohhhh…12 months we have been working on fixing up the living room. 
Longest room makeover in the history of room makeovers? 
Possibly. 
When we moved in it looked something like this (basically we just threw a bunch of random things in there and called it a day):
And now it is more like this (still some random things, but much less cluttered):
The rug is a recent addition from Rugs USA.  I kind of love it.  
At first I was worried it would be too bold, but I think once we get more things in the room it will all make sense. My mom said it reminded her of a quilt pattern, and after she said that I liked it even more.  The room is slowly changing as my taste changes.  
Here are some inspirational photos found on pinterest (click photo for link):
 I love that green velvet sofa and that settee.  Love.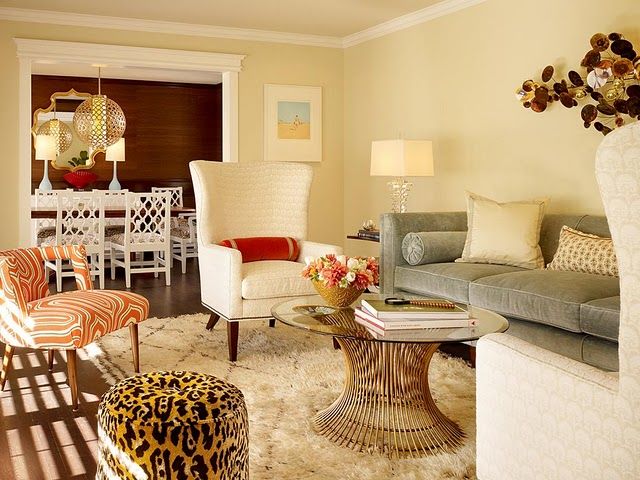 That gray sofa is beautiful, and I love the gold and glass coffee table.  I would love a glass top coffee table, and if you follow me on Instagram you know that I found one!  Now, everyone say a prayer that little Kev doesn't break it.   
I like the gray painted brick on the fireplace here.  We haven't decided if we will ultimately paint the brick on ours yet…
But, adding penny tile to the hearth is almost done!  Yahoo!!
Obviously we are in major need of more furniture.  Possibly a love seat and wing chairs.  I would also like some bookcases and a sofa table between the wall and the sofa.  Oh, and curtains! Kevin said I could get curtains.  If you have been reading my blog for a little you know this is somewhat of a miracle. 
I would still like to reupholster this little side chair I bought a Goodwill a hundred years ago.  Maybe that will get done in the next 10 years. 
Above the chair is a graphic print from our wedding.
The poster was set on an easel outside the room at our reception.  It makes me happy that we have a unique reminder of our wedding on display in our home. 
Do you have any special posters in your home?  Are you all decorated for the Holidays? I really hope we have time to put our tree up soon!  I can't wait!!