I have been dreaming about a shiny new kitchen since the day we moved into our house just over 3 years ago, but I never thought we would actually do it.  I don't know if I thought we would just live with the 100 year-old cabinets and ugly tile until we died or what…
That's a look at the kitchen before we did anything do it.  Shortly after we bought the house we replaced the range, dishwasher, and fridge with pretty stainless steel versions. Other than that not a whole lot has happened.  
Before deciding on ripping everything out and starting over we consider a few other options. One was just repaint everything and replace the countertop.  This would have been a quick fix to spruce things up, but it wasn't going to fix the fact that we have approximately 4 different door styles on our various cabinets (weird!).  The next idea was just to replace all the doors so that they matched, but that still left us a lot of work in the painting department…not to mention the fact that the current drawers stick when you try to pull them out.  The other option was cabinet refacing and new drawers ($8,000 Home Depot??  I don't think so).  We ultimately decided if we were going to spend $8,000 on anything it was going to be new cabinets and new floors.  
So here are our big plans after we demo:
1. Flooring.  We are praying that the sub-floor is in good condition, but we have no idea.  It would be an amazing surprise to find usable hardwood floors under there, but I have a feeling we have a better chance of winning the lottery. At this point, we are planning on fixing any issues with the sub-floor, adding new backerboard, and re-tiling with this:
2. Wall color. Prior to laying the tile we plan on painting.  I have yet to pick the color (sorry Kevin!), but we are leaning towards a pale sage…I think.  I could change my mind ten times before we actually buy it.  
3.  Cabinets!  We have decided to go with Ikea (thank you Kim and Stephanie for your suggestion to use their planner).  After much thought we decided this would be best for us and our budget.  The main portion of the kitchen that has the range and the dishwasher will be white, and the eating area of the kitchen will be gray…
4.  Sink.  I love love love farmhouse sinks, and of course Ikea has one that is perfect!
5.  Faucet.  We haven't 100% decided on which faucet to get, but I am eyeing this one that is on sale at Lowes.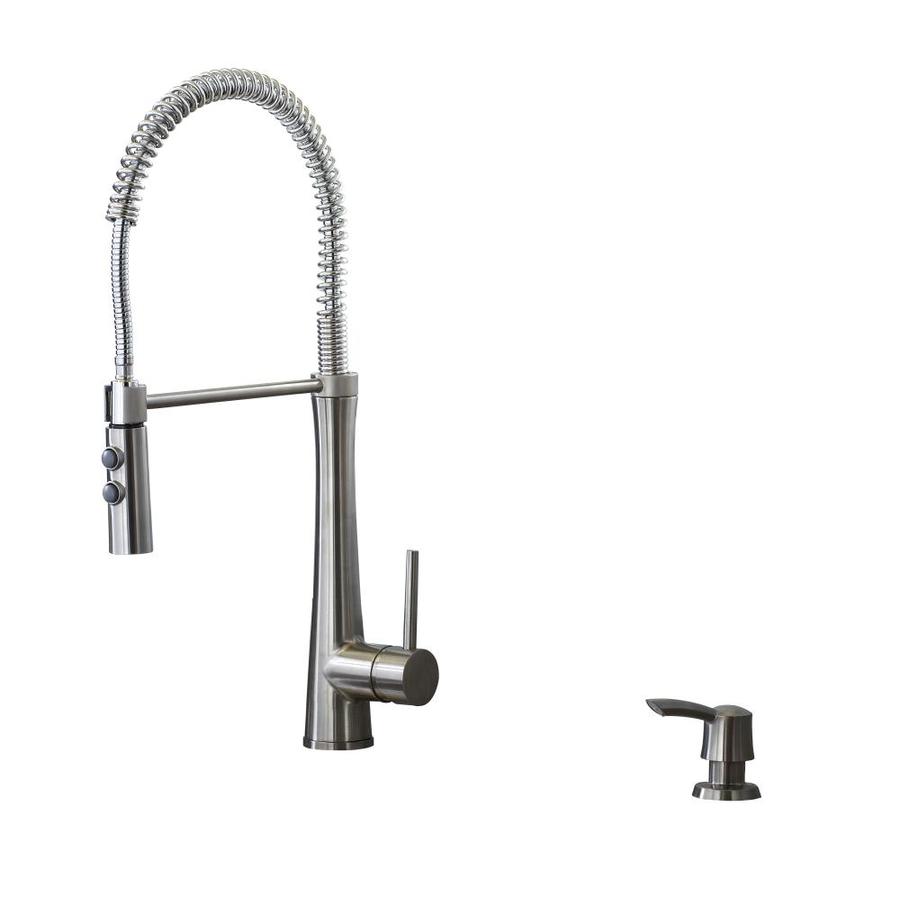 6. Other Appliances.  For the last three years we have been using my college microwave…I don't want to talk about how old I am…but let's just say it's a miracle it still works.  We plan on adding a microwave over the range.  I love the look of a tiled backsplash with a fancy hood, but in the grand scheme of things we need the extra storage above the range and the added counter space of having the microwave over head.  Our newer range is LG, so we decided to go with this microwave (which is also on sale at Lowes now, score):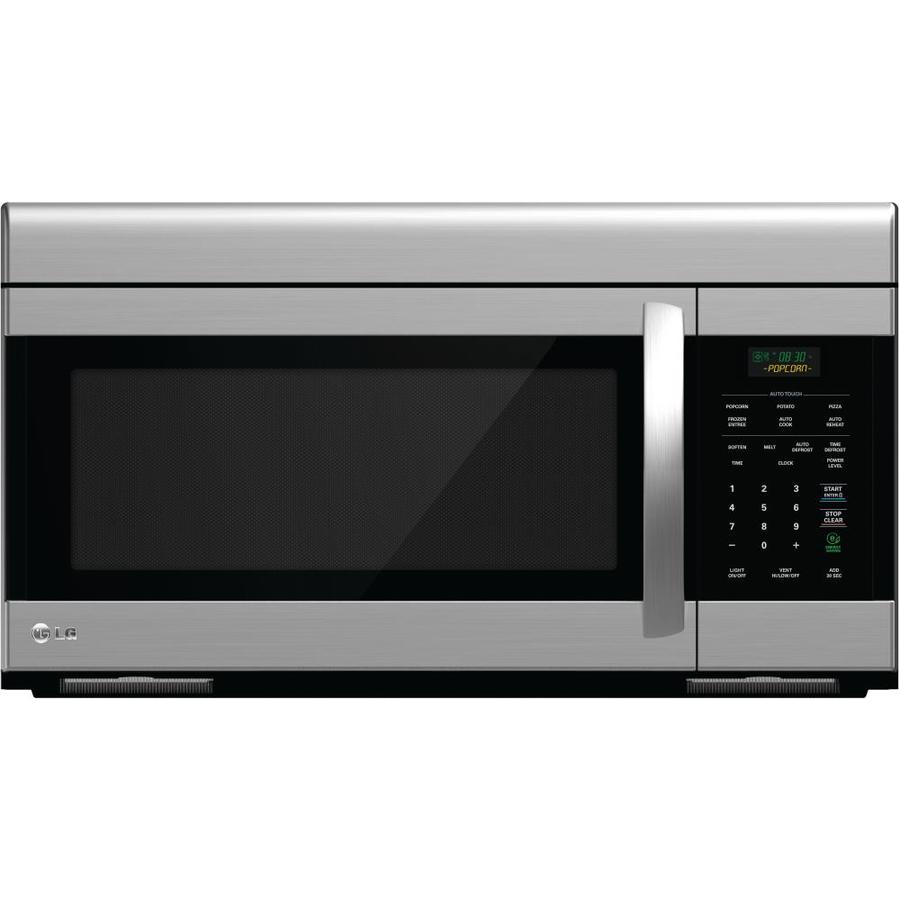 Really that should be all we need, but why not add a little something extra?  My brother and sister-in-law have an under the counter beverage fridge, and well, it's awesome.  Kevin and I are jealous.  So…we were planning on adding on in the sitting area.  A couple weeks ago Home Depot had this one for $399 regular price/not on sale, and today it is $549!
Holy cow.  Apparently you snooze you loose on this one.  So the beverage center may or may not happen!
7. Countertops.  This is still up for debate, but I am routing for HD laminate, very similar to this one from Decor Chick: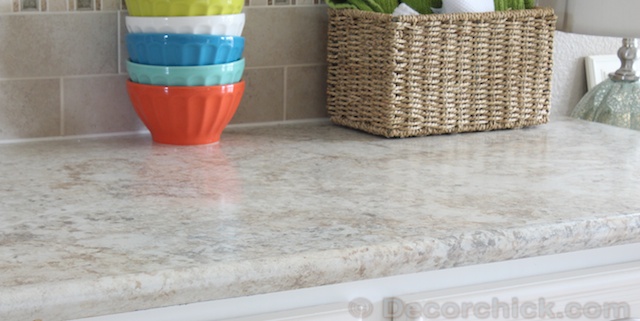 At the end of the day this kitchen will be ours for many years, which means I have to love it.  I had granite in my old condo and it chipped, and I did not love it.  I did love the quartz countertop in my old bathroom, but I just don't know.  I can't exactly justify spending 2-3 times the amount for a solid stone just because it is more desirable for some people.  I think it is beautiful, but I just don't know if it is for "us."  Also, a countertop is something we can replace in 5 years with not too much effort.  
8.  Backsplash.  We plan on doing simple white subway tile.  
9.  Lighting.  Much like the laminte countertops, we like ceiling fans.  The one in the kitchen has come in very handy if if gets too hot or even smokey.  We will probably just clean it well and keep it in place.  We have two smaller light fixtures in the rest of the kitchen that need updated, and one can light that will remain the same.  This will probably be one of the last things we worry about.
10.  Eating area.  Currently we have a small round table with two chairs.  One of the chairs has Kevy's booster seat, which leaves one chair for either Kevin or I.  We would like to add a built in bench across the one wall, keep the two chairs, and eventually update the table. The table is the perfect size (which was kind of hard to find), but the quality isn't the greatest.  I'm thinking Kevin needs to DIY one, don't you think?
11.  Window treatment.  I haven't exactly decided what to do with the window, but I think we should remove the blinds and decide when it's all done.  We pretty much have them pulled up the majority of the time, so they are basically pointless.  
I think that's it.  I have a lot more plans as far as decorating things go, but this post has dragged on long enough!  I hope to keep everyone posted with all the details!  Please say a prayer that we can keep our sub-floors and that the house doesn't cave in when we remove the cabinets!